Evergreen / West Lorne Cemetery
Street Address: 24928 County Rd 2 (Main St)
Community: West Lorne
Township: Aldborough Township (Concession 8, Lot 17)
Locality: Elgin County
Municipality: West Elgin
Province: Outside CanadaON
GPS: 42.599086,-81.614464


Registered to* Evergreen Cemetery Company of West Lorne Limited.

GENEALOGY RESOURCES (Add / Remove a link)
These links are provided for your convenience and may take you to websites that offer products and/or services for sale. CanadaGenWeb's Cemetery Project does not control the content offered - take note of our site design, if it changes you've left this website!
On the Internet

Not on the internet
SOURCES / THANKS







Photos courtesy of Nancy Ross-Hill [2012]
Indexed by Kate Ford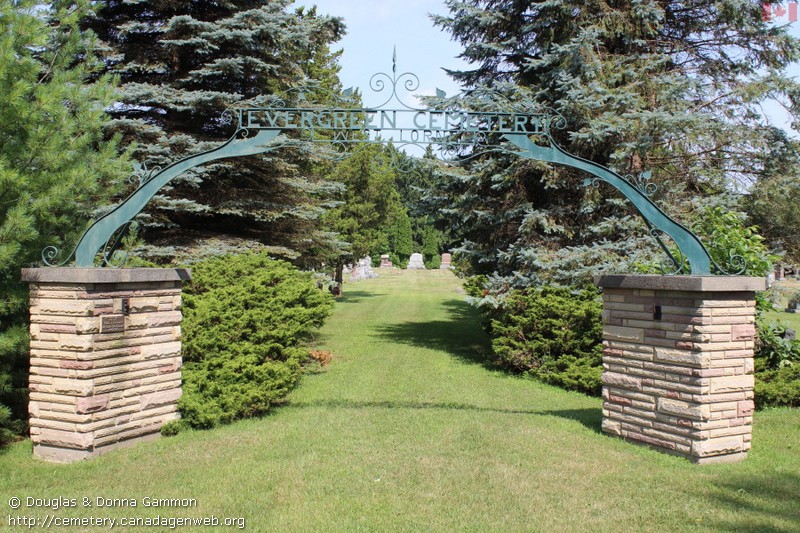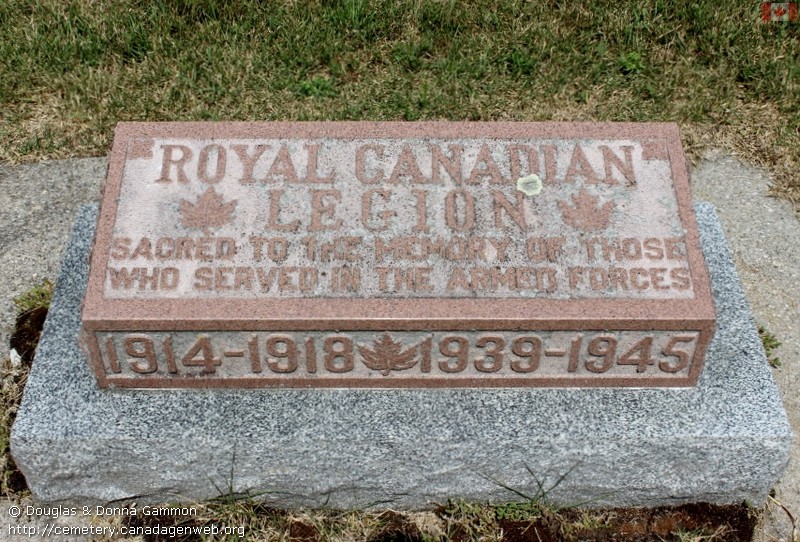 This index represents ALL visible headstones still in existence at the time this cemetery was visited
A B C D E F G H I J K L M N O P Q R S T U V W X Y Z All
- All persons named in this index may not be interred in this cemetery. Some are designated as spouse or parent on appropriate stones, and may not have their own birth and death recorded here (FAQ).
- Women, if maiden names are known, will appear under both their maiden and married names.
Name
Born - Died
WACK, Barbara (Stroh)
1899 - 1978
WACK, Jacob
1897 - 1985
WACK, Peter
1921 - 1986
WALKER
(Living)
WALKER, Arthur Calvin
1920 - 1969
WALKER, Beverly L.
1940 - 1994
WALKER, Clifford James
1906 - 1986
WALKER, Dennis M.
1954 - 2000
WALKER, Donald J.
1950 - 1989
WALKER, Freda (Forsyth)
1913 - 1997
WALKER, Gerald N.
1932 - 2008
WALKER, Hazel M. (Grant)
1912 - 1994
WALKER, James "Ted"
1935 - 2004
WALKER, Margaret S.
1913 - 2008
WALKER, Mary A.
1911 - 2001
WALKER, Mary Ann
1857 - 1939 (age: 82)
WALKER, Neil Glenford
1926 - 1956
WALKER, Newton George
1908 - 1980
WALKER, Robert G. "Bob"
1934 - 2008
WALL, S. Annetta
1885 - 1963
WALSH, Clifford
1925 - 2004
WALSH, Marie Elizabeth (Lippold)
1927 - 2014
WALTERS, Susanna
1868 - 1954
WALTERS, William G.
1866 - 1933
WANN, Hazel I.
1907 - 1992
WANN, Margaret Mae (McMillan)
1885 - 1951
WANN, Mary Ann (Truesdale)
1852 - 1915
WANN, William H.
1885 - 1954
WANN, William H., Sr.
1850 - 1928
WARD, Ada M.
1880 - 1943
WARD, Charles Raymond
1888 - 1899
WARD, Frederick
1893 - 1942
WARD, John S.
1856 - 1920
WARD, John, Private
1877 - 1955 (age: 78)
WARD, Mary E. (Davis)
1859 - 1929 (age: 70)
WATSON
WATSON
(Living)
WATSON, Arthur
1857 - 1931
WATSON, Belle (Bassett)
1882 - 1951
WATSON, Charlette Ann
1851 - 1933
WATSON, Ella
1892 - 1964
WATSON, Enabelle
1909 - 1999
WATSON, Gale A.
1945 - 2008
WATSON, George
1884 - 1981
WATSON, Goldie S.
1882 - 1967
WATSON, J. R.
? ?
WATSON, Jessie (Montgomery)
1882 - 1968
WATSON, John A.
1881 - 1952
WATSON, John A., Private
? - 1952
WATSON, Louis E.
1910 - 1976
WATSON, Margaret
1911 - 2001
WATSON, Mary J. (Murray)
1855 - 1935
WATSON, Nina M.
1913 ?
WATSON, Robert A.
1880 - 1966
WATSON, Robert G.
1937 - 1955
WATSON, Ruby J.
1911 - 1999
WATSON, Tena (Dymock)
1888 - 1942
WATSON, Walter
1890 - 1974
WEBB
WEBB, Alph
spouse
WEBB, Muriel J. (Henderson)
1888 - 1963
WEBBER, Alice (Lahey)
1885 - 1951
WEBBER, Clara
1879 - 1971
WEBBER, Joseph
spouse
WEBBER, Mary Ann (Kelly)
1854 - 1921 (age: 67)
WEBBER, Norman
1901 - 1949
WEBBER, Thomas A.
spouse
WEBBER, William John
spouse
WEBER, John Michael
1969 - 2007
WELCH, Christina J.
1890 - 1953
WELCH, Elizabeth
? - 1908 (age: 21)
WELCH, Ethel May
1896 - 1918
WELCH, Frederick Limon
1924 - 2006
WELCH, Herbert
1885 - 1946
WELCH, Janet J.
1929 - 2004