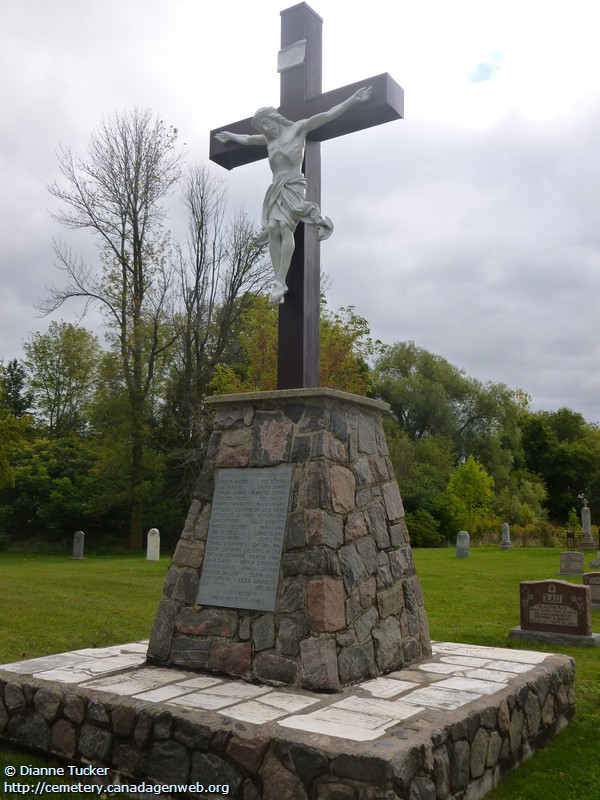 Street Address: 73334 Bluewater Hwy
Community: St Joseph
Township: Hay Township (LRE, Lot 4)
Locality: Huron County
Municipality: Bluewater
Province: ON
GPS: 43.437121,-81.701889

Church / Denomination: St. Peter's Roman Catholic Church
Registered to* R.C.E.C. of Diocese of London.
In 1856, ten acres on the southwest corner of Lot 4, LRE, was registered to the Roman Catholic Episcopal Corporation, Toronto. This cemetery was turned over to the Diocese of London in 1904. Located behind St. Peter's Church. Due to breakage or the deterioration caused by the passage of time many of the early tombstones in the cemetery have been lost. Some of the early stones were formed into the memorial cairn. The earlies date on these is of ...Gett, wife of Samuel Boyle, who died November 30, 1856.
The iron crosses found in the old section of St. Peter's RC Cemetery, were used as headstones, with the name of the deceaded inscribed on a metal nameplate. These iron crosses were fashioned by Joseph Ducharme, who learned the blacksmith trade in Zurich ON and Blake,ON. Joseph Ducharme set up his own forge at Drysdale and in 1886 he married Marie Geoffrey. Joseph and Marie had 15 children. Joseph made all his own tools with the exception of his anvil and blower. Hay Township Highlights 1846-1996. pg. 384
GENEALOGY RESOURCES (Add / Remove a link)
These links are provided for your convenience and may take you to websites that offer products and/or services for sale.
CanadaGenWeb's Cemetery Project does not control the content offered - take note of our site design, if it changes you've left this website!
On the Internet

Not on the internet
SOURCES / THANKS
A B C D E F G H I J K L M N O P Q R S T U V W X Y Z All
Some persons named in this index may not be interred in this cemetery. They are designated as spouse or parent on appropriate stones, and may not have their own birth and death recorded here (See our FAQ).
Women, if maiden names are known, will appear under both their maiden and married names.
This index represents ALL visible headstones still in existence at the time this cemetery was visited
LA PORTE, Cecilia M. 1908 - 1986
LA PORTE, Marcel Robert 1965 - 2007
LAPORTE
LAPORTE, Clarence 1906 - 1908
LAPORTE, Clotilde 1903 - 1995
LAPORTE, Elise M. (Masse) 1898 - 1975
LAPORTE, Geraldine 1917 - 2001
LAPORTE, Hector C. 1894 - 1948
LAPORTE, John B. 1864 - 1943
LAPORTE, Joseph ? - 1879 (age: 43)
LAPORTE, Mary ? - 1893 (age: 24)
LAPORTE, Myrtle 1905 - 1996
LAPORTE, Noel 1909 - 1995
LAPORTE, Phoebe 1839 - 1903 (age: 63)
LAPORTE, Phoebe 1873 - 1953
LAPORTE, R. Jean-Maurice 1941 - 2014
LAPORTE, Rachelle (Forcier) 1937 - 1984
LAPORTE, Rena (Ducharme) 1909 - 1979
LAPORTE, Theodore 1901 - 1980
LAPORTE, Valerie 1896 - 1975
LAPORTE, Virginie (Brisson) 1868 - 1929
LaROUCHE, Rose Ida 1917 - 2000
LESLEY, Bettie-Lou 1940 - 1999
LEWIS, Irene Josephine 1909 - 1984
LIBOIRON, Blanche P. 1923 - 2005

Correct a name / Request a removal: Corrections & removal requests can be made using the form found on the name page. From the index above, locate the name in question, click on it, and fill out the form on that page.