Egmondville United Cemetery
Street Address: 28 Bayfield St
Community: Egmondville
Township: Tuckersmith Township (Concession 2, Lot 11)
Locality: Huron County
Municipality: Huron East
Province: Outside CanadaON
GPS: 43.539714,-81.407319


Church / Denomination: United

Registered to* Egmondville Cemetery Board.

GENEALOGY RESOURCES (Add / Remove a link)
These links are provided for your convenience and may take you to websites that offer products and/or services for sale. CanadaGenWeb's Cemetery Project does not control the content offered - take note of our site design, if it changes you've left this website!
On the Internet

Not on the internet
SOURCES / THANKS







Photos courtesy of Lorna Eggert [2010]
Indexed by Lorna Eggert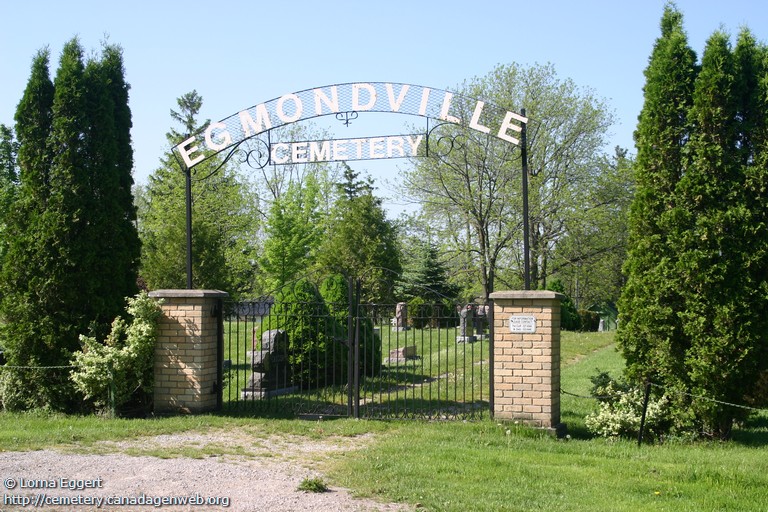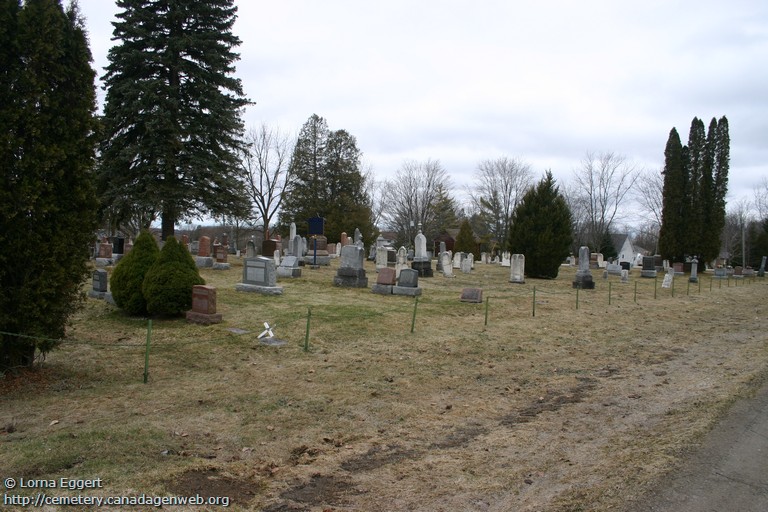 This index represents ALL visible headstones still in existence at the time this cemetery was visited
A B C D E F G H I J K L M N O P Q R S T U V W X Y Z All
- All persons named in this index may not be interred in this cemetery. Some are designated as spouse or parent on appropriate stones, and may not have their own birth and death recorded here (FAQ).
- Women, if maiden names are known, will appear under both their maiden and married names.
Name
Born - Died (Age)
(unreadable)
(unreadable)
(unreadable)
1801 - 1887 (age: 86)
(unreadable)
(unreadable)
(unreadable)
(unreadable)
(unreadable)
(unreadable)
(unreadable)
(unreadable)
(unreadable)
(unreadable)
(unreadable)
(unreadable)
(unreadable)
(unreadable)
(unreadable)
(unreadable)
(unreadable)
(unreadable)
?, Alex Anderson
1867 - 1870 (age: 2)
?, Emily Miller
1869 - 1870 (age: 9m)
?, Malcolm
? ? (age: 2)
ADAMS, Alvin F.
1910 - 1968 (age: 58)
ADAMS, Cecil
1912 - 1981 (age: 69)
ADAMS, Frederick
1881 - 1965 (age: 84)
ADAMS, Kathleen (Baker)
1887 - 1972 (age: 85)
ADAMS, Mona (McGregor)
1911 - 1999 (age: 88)
ADELSTRORP, (living)
1920
AIKENS, (living)
1920
AINSBOROUGH, Susan
1894 - 1981 (age: 87)
ALDERDICE, Bryan
1957 - 1958 (age: 1)
ALDERDICE, Mona (Caldwell)
parent
ALDERDICE, Vernon
parent
ALLAN, Christina
1852 - 1936 (age: 84)
ALLAN, Hephzibah
1864 - 1895 (age: 31)
ALLAN, J.C.
spouse
ALLAN, Jessie J.
1882 - 1895 (age: 13)
ALLAN, Margaret (Campbell)
1824 - 1908 (age: 84)
ALLAN, William
1821 - 1897 (age: 76)
ALLAN, William
spouse
ALLEN, John
? ?
ALLEN, Margaret
1852 - 1852 (age: 21d)
ALLEN, Margaret
parent
ALLEN, William
parent
ALLIN, (living) (Houston)
1922
ALLIN, J. Reginald
1911 - 1964 (age: 53)
ANDERSEN, (living) (Adelstrorp)
1920
ANDERSEN, Soren Christian
1917 - 2008 (age: 91)
ANDERSON, Alex
1868 - 1870 (age: 2)
ANDREWS, Ann
1792 - 1874 (age: 82)
ANDREWS, John
spouse
ANDREWS, Josepene
1863 - 1868 (age: 5)
ANDREWS, Joseph
? - 1867
ARMSTRONG, (living)
1929
BACHERT, (living)
1919
BACHERT, Mabel (Schwartzentruber)
1918 - 1998 (age: 80)
BAILEY, (living)
1948
BAKER, (living)
1928
BAKER, Kathleen
1887 - 1972 (age: 85)
BALKWILL, Maurice "Len"
1909 - 1974 (age: 65)
BANNERMAN, (living) (Rehberg)
1930
BANNERMAN, Darwin D.
1927 - 2010 (age: 83)
BARKER, Catherine A.
1861 - 1892 (age: 31)
BARKER, Charles
1845 - 1892 (age: 47)
BARNUM, Frederick
1897 - 1974 (age: 77)
BARRY, (living)
1924
BARRY, (living) (Hawkins)
1927
BARRY, K. "Jerry"
1952 - 1973 (age: 21)
BARRY, Kenneth J.
1925 - 2004 (age: 79)
BARTON, Mabel M.
1915 - 2006 (age: 91)
BAXTER, James
spouse
BAXTER, Mary A. (McLeod)
1825 - 1860 (age: 35)
BAYS, Ann
1838 - 1860 (age: 22)