Ross Brucefield / Free Presbyterian Cemetery
Street Address: London Rd
Community: Brucefield
Township: Tuckersmith Township (Concession 1, Lot 27)
Locality: Huron County
Municipality: Huron East
Province: Outside CanadaON
GPS: 43.51182,-81.514175


Church / Denomination: Presbyterian

Registered to* Municipality of Huron East (Town).

GENEALOGY RESOURCES (Add / Remove a link)
These links are provided for your convenience and may take you to websites that offer products and/or services for sale. CanadaGenWeb's Cemetery Project does not control the content offered - take note of our site design, if it changes you've left this website!
On the Internet

Not on the internet
SOURCES / THANKS







Photos courtesy of Lorna Eggert [2011]
Indexed by Lorna Eggert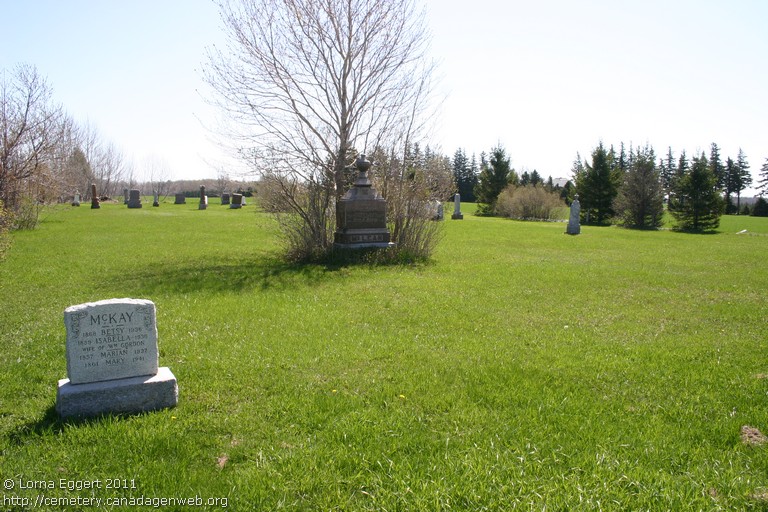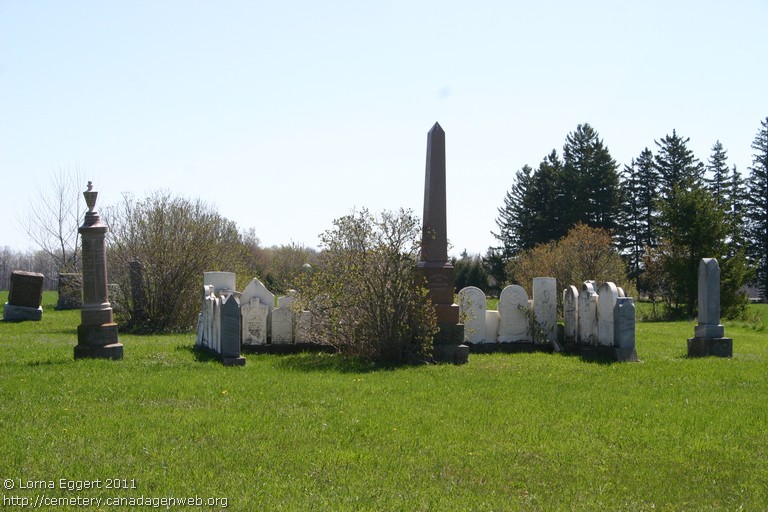 This index represents ALL visible headstones still in existence at the time this cemetery was visited
A B C D E F G H I J K L M N O P Q R S T U V W X Y Z All
- All persons named in this index may not be interred in this cemetery. Some are designated as spouse or parent on appropriate stones, and may not have their own birth and death recorded here (FAQ).
- Women, if maiden names are known, will appear under both their maiden and married names.
Name
Born - Died (Age)
MacKAY, Anna
1879 - 1948 (age: 69)
MacKAY, Annie
parent
MacKAY, Annie (Clark)
1854 - 1933 (age: 79)
MacKAY, Blanche H. (Ogilby)
1882 - 1919 (age: 37)
MacKAY, Daniel Clark
1881 - 1916 (age: 35)
MacKAY, Peter
1853 - 1928 (age: 75)
MacKAY, Peter
parent
McCALLUM, Isabella
1783 - 1872 (age: 89)
McCULLOCH, Margret
1780 - 1854 (age: 74)
McDONALD, (two infants)
McDONALD, Ann
1835 - 1872 (age: 37)
McDONALD, Catherine
1803 - 1877 (age: 74)
McDONALD, Colin
1849 - 1881 (age: 32)
McDONALD, Donald
1800 - 1858 (age: 58)
McDONALD, Duncan
1787 - 1856 (age: 69)
McDONALD, Duncan
parent
McDONALD, Duncan
1805 - 1897 (age: 92)
McDONALD, Duncan
parent
McDONALD, Elizabeth
parent
McDONALD, Isabella (Thompson)
1799 - 1853 (age: 54)
McDONALD, J.H.
1890 - 1890 (age: 2m)
McDONALD, James
1791 - 1872 (age: 77)
McDONALD, Jas.
parent
McDONALD, John
spouse
McDONALD, John
1836 - 1889 (age: 53)
McDONALD, John A.
1863 - 1867 (age: 4)
McDONALD, Malcolm
1790 - 1853 (age: 63)
McDONALD, Margery
parent
McDONALD, Martha
parent
McDONALD, Mary
1849 - 1881 (age: 32)
McDONALD, Mary
1810 - 1896 (age: 86)
McDOUGALL, Christina
1831 - 1913 (age: 82)
McDOUGALL, Donald
1823 - 1872 (age: 49)
McDOUGALL, Ellen (McGregor)
1843 - 1894 (age: 51)
McDOUGALL, Guy
spouse
McDOUGALL, Isabella
? - 1865
McDOUGALL, Jane
1855 - 1874 (age: 19)
McDOUGALL, Jennie J.
1881 - 1937 (age: 56)
McDOUGALL, John
1852 - 1929 (age: 77)
McDOUGALL, Mary
1860 - 1865 (age: 5)
McDOUGALL, William
1855 - 1927 (age: 72)
McDOUGALL, William
spouse
McEWEN, Ann
? ?
McEWEN, Duncan
? ?
McFARLANE, Jane
1837 - 1870 (age: 33)
McGILL, Alex
parent
McGILL, Alexander
1867 - 1867 (age: 1m)
McGILL, Mary
parent
McGREGOR, Cath.
1796 - 1884 (age: 89)
McGREGOR, Duncan
? ?
McGREGOR, Ellen
1843 - 1894 (age: 51)
McKAY, Betsy
1868 - 1936 (age: 68)
McKAY, Betsy
1849 - 1878 (age: 29)
McKAY, Christena
1808 - 1885 (age: 77)
McKAY, Donald
1831 - 1893 (age: 62)
McKAY, Eric
1859 - 1921 (age: 62)
McKAY, George
1792 - 1861 (age: 69)
McKAY, George
1835 - 1921 (age: 86)
McKAY, Hugh
1796 - 1880 (age: 86)
McKAY, Isabella
1859 - 1936 (age: 77)
McKAY, Janett (Finlayson)
1836 - 1920 (age: 84)
McKAY, Jas.
spouse
McKAY, Jas.
1827 - 1907 (age: 80)
McKAY, Johanna
1825 - 1866 (age: 41)
McKAY, Johanna
1811 - 1901 (age: 90)
McKAY, John
1865 - 1884 (age: 19)
McKAY, John
spouse
McKAY, Marian
1857 - 1937 (age: 80)
McKAY, Mary
1861 - 1941 (age: 80)
McKAY, Mary
1800 - 1877 (age: 87)
McKAY, Mary (McKenzie)
1868 - 1956 (age: 88)
McKAY, Murdoch
1787 - 1867 (age: 80)
McKAY, William
1823 - 1897 (age: 74)
McKAY, William
1847 - 1847 (age: 2m)
McKAY, William
1811 - 1893 (age: 82)